Our Mission
Create innovative win-win solutions for all our associates and business partners in vehicle electronics.
Our Vision
Be a dominant global solutions provider with a broad selection of trusted products and world-class customer service.
Our Culture
Caring For Our Customers
We will always strive to meet or exceed customer expectations for quality, price and delivery. We focus on building long-lasting relationships with our customers based on mutual trust, integrity and honesty. We are sensitive to customer schedules, quality and cost issues; and recognize the vital importance of supporting their needs while also complying with legal, ethical and regulatory requirements.
Our Culture
Success With Our Suppliers
We are committed to dealing fairly with our suppliers. We emphasize fair competition without discrimination or deception in a manner consistent with long-lasting relationships. We purchase all equipment, services and supplies based on merit, and all of our suppliers, vendors and subcontractors are treated with fairness and integrity.
Our Culture
Engaging Our Employees
We are committed to treating each other fairly and maintaining employment practices based on equal opportunity for all employees. We respect each other's privacy and treat each other with dignity and respect. We are committed to providing safe and healthy working conditions and an atmosphere of open communications for all employees.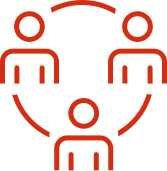 Our Culture
Community Involvement
We have a long-standing commitment to being good corporate citizens. We conduct ourselves in a responsible and responsive manner and comply with the laws, regulations and customs of the communities in which we live and work. We support and encourage employee involvement in community activities and organizations. We respect our environment and protect our natural resources.
Our Culture
Sustainable Practices
We embrace our responsibility to protect the environment and manage every area of our business – from sourcing operations, to manufacturing, to packaging and distribution – to minimize our environmental footprint. Moreover, we work closely with our constituents to enhance the effectiveness of these and other vital sustainability efforts. In keeping with this commitment, Wells has achieved ISO 14001:2015, which requires the careful monitoring and control of all the environmental effects of all activities, products and services.
Core Values
Our core values are the foundation of our success.
They guide us each day as we make business decisions, interact with colleagues and vendors and deliver on our promise of excellence to our customers.
Integrity
Sincerely, do our very best.
Initiative
Believe in one's own ability, and take actions upon oneself.
Unity
Unite efforts with the people of the world, and utilize each other's differences.
Perseverance
Have cherished desire and carry it through until the end.
Get To Know Our Brands
Wells Vehicle Electronics is the parent company of several leading automotive brands, including WVE Vehicle Electronics, Wells Engineered Products and GoTech Technical Specialists.
Our History
A Legacy Of Quality And Innovation
In 1903, during the earliest days of automobile mass production, Robert Wells established Wells Vehicle Electronics to meet the fast-growing auto industry's need for accurate and reliable electrical components. Working alongside early automobile innovators like Henry Ford and his Ford Motor Company, Wells became a pioneer in the design, engineering and manufacturing of these parts.
As a founding member of the Automotive Warehouse Distributors Association in 1947, Wells played an instrumental role in creating a network dedicated to serving the needs of the motor vehicle aftermarket. We've always understood that customers are looking for innovative, high-quality components that meet the strict requirements of not only today's vehicles, but tomorrow's as well.
In 2015, Wells was acquired by Niterra Co., LTD, makers of spark plugs for virtually every automotive, motorcycle, marine and small engine application. In 2020, we introduced Wells Engineered Products and WVE Vehicle Electronics to our brand family and continue to seek ways to expand our reach in the auto-parts industry.
Locations
Fond du Lac, WI
Company Headquarters & Manufacturing Facility
Our Fond du Lac headquarters is home to our corporate offices and primary production facility where we engineer top-quality products using leading-edge manufacturing technologies. Shipments from this location support the automotive industry in North America, South America, Europe, Asia and Australia.
Wells constructed the current production facility in 1983, with additions in 1995 and 1997 to accommodate company growth. In 2013, the corporate team – formerly housed on Brooke Street in downtown Fond du Lac – moved to a brand new building adjacent to the production plant, bringing the two teams closer together for easier collaboration.
This facility has earned the following safety and environmental certifications: QS9000 (1996), ISO/IATF 16949 certified (2005), ISO 14001:2015 (2015) and ISO/IEC 17025 (2019).
Locations
Centerville, IA
Product Distribution & Logistics Center
Since 1986, Centerville has been home to Wells's 200,000 sq. ft. distribution complex. This facility is equipped with cutting-edge packaging and shipping technologies, including proprietary packaging lines, automated order picking/stocking, real-time inventory control and a highly detailed product-management system with more 33,000 different item numbers.
In addition to being ISO 14001 certified, this facility received the 2004 Iowa Recycling Award for Excellence, which recognized our sustainable waste-handling and recycling practices.
Locations
Reynosa, Mexico
Manufacturing facility
In 1988, Wells broke ground for a contemporary manufacturing facility in a nearly empty industrial park in Reynosa, Mexico. Since then, more than 200 other American businesses have joined us.
The facility is home to state-of-the-art thermoplastic injection presses, finishing equipment and other technologies for manufacturing sensors, switches, solenoids, coils, temperature sending units, ballast resistors, distributor caps and rotors, ignition wires, contacts and condensers. An advanced data-sharing system keeps the Reynosa plant in constant contact and collaboration with our headquarters in Wisconsin.
Each and every part manufactured in Reynosa is tested and confirmed to meet OEM specifications – or better – before being transferred to our distribution and shipping facility in Centerville.
Leading the charge
Our Leadership Team
Learn about the innovative people who lead our day-to-day operations and ensure our company's long-term growth and success.
Yoshi Ieda
Chairman & Chief Executive Officer
Patrick Sommerfeld
President & Chief Operating Officer
Matthew R. Wirth
Vice President, Human Resources & General Affairs
Brian Aho
Vice President, Operations
Greg Burneske
Vice President, Wells Engineered Products
Tom Schaefer
Vice President, Engineering & Procurement
David Stewart
Vice President, Sales & Marketing
Carie Sommerfeld
Vice President, Finance & Pricing
Sean Shimmura
Assistant to the President
Call Our Technical Support Hotline
Technical Support
(844) 519-3557 ext. 1
M-F, 7:30 a.m. – 5:30 p.m. CST
Customer Service
(844) 519-3557 ext. 2
M-F, 7:30 a.m. – 5:30 p.m. CST